Which Cars Catch Fire the Most?
Norman Taylor & Associates
January 16, 2023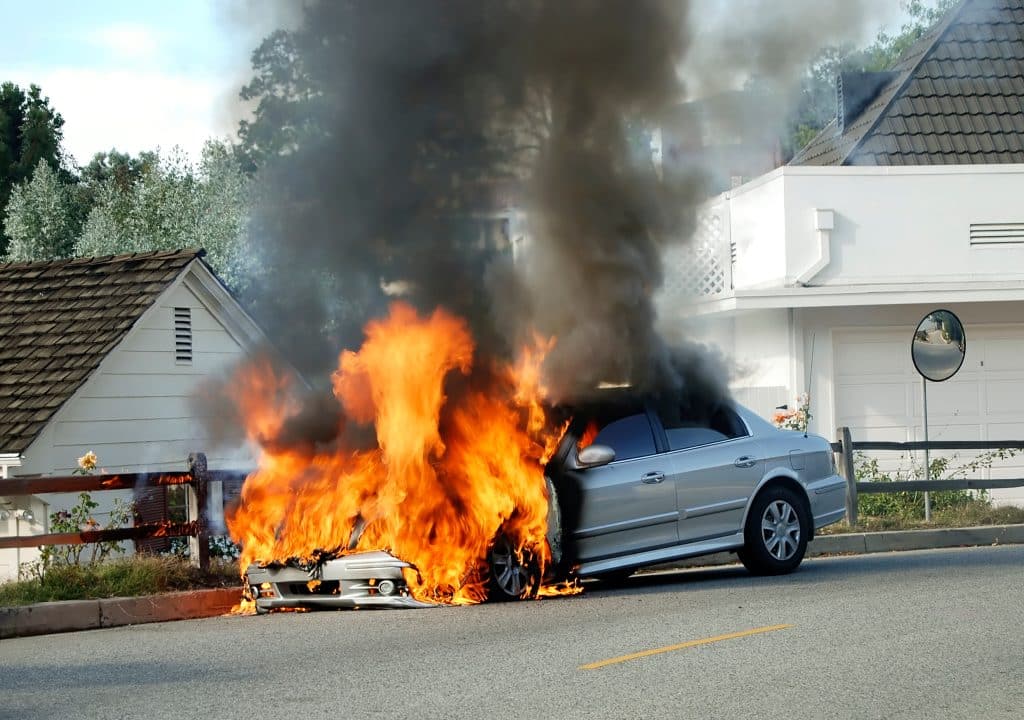 Car fires — we've all seen them. Even the smallest of flames will quickly grow, engulfing the vehicle and turning it into a blackened hull on the side of the road. It's terrifying to witness and unimaginable to experience. 
It's estimated that 19 car fires occur every hour in the United States, accounting for every 1 in 8 calls fire departments respond to. Nearly 25% of vehicle fires are caused by equipment failure or a heat source in the car.
Since 2012, car manufacturers have recalled over 9.5 million cars due to defective parts that can cause a fire.
So, what can you do to best avoid a car fire? And which cars catch fire the most? Here's what every driver needs to know.
HOW DO CARS CATCH ON FIRE?
Many cars with safety recalls catch fire because of common vehicle defects, such as faulty manufacturing or a design flaw. Not every car with a fault will burst into flames, but you are at a higher risk while driving a defective vehicle.
There are several reasons any car can catch fire, including:
Severe engine oil leaks that cause the engine to lose so much oil, it no longer has a safe amount and overheats.
Forgetting flammable materials under the hood, like rags or paper towels used for cleaning, is a serious danger.
Overheated brakes can cause tires and brake pads to catch fire.
Lack of maintenance can cause rubber hoses and seals to wear out and leak flammable liquids.
Modifications can be dangerous. Cheap parts or careless labor can result in disaster.
Which Cars Catch on Fire the Most? Top Car Fires by Brand
Which cars catch on fire the most? Here's some data on the top car fires by brand and some of the most recent vehicle recalls in the news.
Kia & Hyundai
Kias and Hyundais are some of the most at-risk vehicles for catching on fire. Kia and Hyundai are grouped together, as their vehicles share many of the same parts — especially the ones at risk of catching on fire.
Since 2015, these two car brands have recalled 2.3 million vehicles for engine fire risks. In late 2019, they reached a $760 million settlement for non-crash-related car fires.
In 2018, the Highway Loss Data Institute investigated non-crash fire insurance claims for midsize Hyundai and Kia vehicles. They discovered that these cars are over twice as likely to have a non-crash-related fire insurance claim than comparable cars from other manufacturers.
Hundreds of complaints from Kia and Hyundai vehicle owners were filed, with drivers reporting cars catching on fire while driving and smoldering wires. Some of the fire risk issues were so severe, vehicle owners were encouraged to park their vehicles outside and away from their homes or other structures in case the car spontaneously caught on fire.
Here is a full list of the affected vehicles.
Kia
2010-2016 Soul
2011-2014 Optima & Optima Hybrid
2011-2014 Sorento
2008-2009, 2011-2012 Sportage
2021 Stinger
Hyundai
2011-2014 Sonata & Sonata Hybrid
2011-2014, 2016 – 2018 Santa Fe
2013-2014 Sport
2011-2013 Tuscon
Why do Kias and Hyundais have such a high risk of catching on fire? There are many reasons these vehicles are more prone to catching on fire. Issues range from an oil pan leak that causes the engine to overheat and catch fire to faulty rod bearings. Many vehicles are affected because Kias and Hyundais share a lot of the same parts. So if one part has a problem, it can easily affect hundreds of thousands of vehicles.
Subaru
In December 2022, Subaru announced a safety recall for over 270,000 2019-2022 Ascent vehicles due to a defect that increases the risk of a fire.
The issue stems from the improper installation of a ground bolt during the production of the vehicles. This bolt secures the ground terminal of the Positive Temperature Coefficient heater. When this bolt is too loose, it increases the chance of that ground terminal melting and starting a fire.
Subaru recommends owners of 2019-2022 Ascents park their cars away from garages, carports, or other structures. The car manufacturer also recommends not leaving the vehicle unattended if the engine is running.
Mercedes
In January 2023, Mercedes-Benz recalled almost 28,000 vehicles at risk of catching on fire due to a wiring harness issue.
This defect allows water from external sources to get into the electrical connections of the wiring harness. Water on electric components can cause short circuits, leading to an increased fire risk if the ignition is turned off for long periods of time.
Vehicles included in the recall are:
2019-2021 Mercedes-Benz CLS53
2019-2023 Mercedes-Benz E53 Cabriolet
2019-2023 Mercedes-Benz E53
2019-2023 Mercedes-Benz E53 Coupe
2019-2023 Mercedes-Benz GT53
2021-2023 Mercedes-Benz GT43
2019-2023 Mercedes-Benz CLS450
2021-2023 Mercedes-Benz E450 Cabriolet
2021-2023 Mercedes-Benz E450 Wagon
2021-2023 Mercedes-Benz E450 Coupe
2021-2023 Mercedes-Benz E450
Ford
Ford issued a fire safety recall for over 39,000 vehicles, urging vehicle owners to park their cars outside due to the increased fire risk. Drivers reported fires while their cars were unattended and a burning smell and smoke from the front passenger area while driving.
This recall affects:
2021 Ford Expeditions
2021 Lincoln Navigators
Why are Ford vehicles catching on fire? These Ford vehicle fires mainly happened while the cars were parked, turned off, and unattended. While they don't cite a specific reason, Ford states its cars have an "increased risk of underhood fire, including while the vehicle is parked and off."
Chevrolet
Over 50,000 2017-2022 Chevrolet Bolts and Bolt EUVs were recalled due to an increased fire risk. Chevy urges Bolt owners affected by the recall to park outside and not leave their cars charging overnight.
The fire risk issue is caused by a defect in the car's battery. Luckily, this issue can be fixed with a software update completed at a GM EV dealer.
If you're a Chevy Bolt owner, you can read more about the recall and what you should do from the Chevrolet website.
Mitsubishi
Mitsubishi recalled 45,000 vehicles with a potential transmission fluid leak, most of which were the 2015 Outlander Sport Crossover SUV.
Transmission leaks are dangerous. If enough transmission fluid leaks out onto a hot surface, it can ignite and catch the vehicle on fire.
CHECK FOR FIRE RISK RECALLS
Whether you're looking into purchasing a new car or want to know if the vehicle you own is at risk of catching on fire, you can check for fire safety recalls on the NHTSA's recall page. Simply enter your VIN to see any recalls affecting your vehicle.
The NHTSA recently rolled out a new feature to their recall website to draw attention to urgent safety recalls, such as fire risks. A bright red box appears at the top of the page if there are any recalls urging vehicle owners not to drive their vehicles or if the car can catch fire while parked.
WHAT TO DO IF YOU'VE SUFFERED FROM A CAR FIRE
If your car was involved in a fire, it is important to contact a lemon lawyer. It is not unusual for vehicle manufacturers to claim the car owner is at fault.
Lemon laws are complicated and often misunderstood. An experienced Lemon lawyer can explain your rights and how the system works.
CONTACT OUR TEAM OF EXPERIENCED LEMON LAW ATTORNEYS TODAY
Do you think you were sold a faulty vehicle or have been a victim of a car fire? We can help.
Contact Norman Taylor & Associates to learn more about how we can give you the legal assistance you deserve. Our team of experienced California lemon lawyers is here to answer all your questions and concerns.
Schedule my consultation