GMC Acadia Shifter Lawsuit: What You Need to Know
Norman Taylor & Associates
August 4, 2023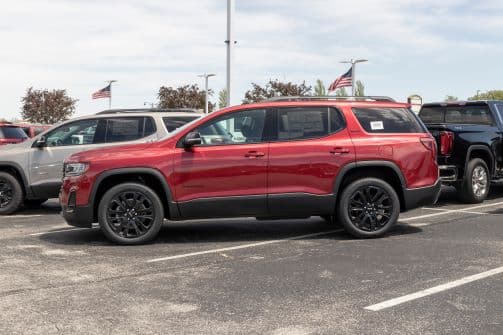 When you own a car, you expect it to function smoothly and efficiently. Unfortunately, many GMC Acadia owners have been plagued by a "Shift to Park" defect that prevents the car from shutting off even when shifted into park. This issue has resulted in a class action lawsuit against General Motors, alleging that the company knowingly sold defective vehicles to customers.
Our experienced California lemon law attorney breaks down everything you need to know here.
GM Class Action Lawsuit Certified in Tennessee
In August 2020, a GMC Acadia "Shift to Park" lawsuit was filed against General Motors. The lawsuit alleged that the manufacturer knew about the defect since at least January 2017 but refused to diagnose or repair the vehicles under warranty. As of May 2023, the lawsuit is certified as a class action, but only for consumers in Tennessee.
General Motors has responded to the lawsuit by filing a motion to dismiss, which was partly granted. The judge dismissed the request for punitive damages and the implied warranty of merchantability claim. However, they refused to throw out the breach of contract and breach of express warranty claims.
Why Was This Lawsuit Filed?
According to the class action, 2017-2018 GMC Acadia SUVs have defects that cause "Shift to Park" messages to appear even though the vehicles are already shifted into park. This could prevent drivers from shutting off and locking their cars.
What Vehicles Are Affected?
All of the vehicles listed below could be affected, including: 
2017-2018 GMC Acadia
2016-2019 Chevrolet Malibu
2016-2019 Chevrolet Volt
2018-2019 Chevrolet Traverse
2019 Chevrolet Blazer
How Is GM Fixing the Issue?
From January 2017 to September 2019, General Motors issued bulletins regarding the "Shift to Park" problem to its dealerships, but it still persists.
According to some GMC Acadia owners, GM replaces the transmission or the park switch in the transmission control assembly with an equally defective replacement part. This temporary fix doesn't address the underlying issue and puts drivers at risk.
GM "Shift to Park" Defect Complaints
Several GM drivers have reported the "Shift to Park" issue to the National Traffic Safety Administration (NHTSA) and on online forums. Here are a few examples of complaints.
2017 GMC Acadia
One driver reported that the start/stop button doesn't turn off the engine when their vehicle is parked. Instead, an error code of "Shift to Park" appears on the dashboard — even though the car is clearly in park. They have to restart the engine, put the car in reverse, shift back into drive, try re-parking, and turn the engine off again.
2019 Chevrolet Volt
A Chevy Volt owner stated that their car suddenly stalled while driving at around 45mph. The dashboard displayed "Shift to Park" error messages and would not start or shift out of park.
2018 Chevrolet Traverse
Another person reported that when the gear is already in park, they receive a message telling them to put the car in park to shut it off. They said the vehicle must be started multiple times before it can be turned off completely.
Does Your GM Vehicle Have "Shift to Park" Problems?
Lemon laws are designed to protect consumers who have purchased or leased defective vehicles. If your car has a significant defect that cannot be fixed, you may be entitled to a refund or replacement vehicle. To learn more about lemon law and how it may apply to your situation, contact Norman Taylor & Associates today!
Contact Our Experienced California Lemon Law Firm
Norman Taylor & Associates is a California-based lemon law firm representing owners and lessees of 2016 and newer vehicles. Our experienced lemon law attorneys can help you pursue the compensation you deserve and protect your legal rights.
Call 818-244-3905 to schedule a FREE consultation.
Schedule my consultation